In the world of SEO, it is not unusual for things to change in an instant. When Google releases a new algorithm update, as an example, your previously well-ranked site might be thrown out of the first 100 results, with dire consequences.
This has happened to many site owners after the release of Google's patches, most notoriously the EMD update in 2012, which changed how the algorithm viewed 'exact match domains' (e.g. 'drycleaningdublin.ie') in relation to brand domains (e.g. 'abouttime.ie').
This is just one of many situations that have stunned site owners over the years. What works today might not work tomorrow. We can assume that it will, but there is no guarantee. As such, it is increasingly important to stay on top of good SEO practices. These practices are what this blog series will be about.
In the first part of this series, I've compiled a list of 7 SEO practices that are bound to propel your search rankings in 2021.
Tip #0: Do you really need to focus on SEO?
Just a quick aside before we delve into the tips…
SEO is a bit of a buzzword that has become encapsulated in what people refer to as digital marketing, and there seems to be a bit of a misunderstanding of what SEO actually is, and if it really is for everyone.
Here's my short comment on this:
SEO is a combination of tools and practices which can be extremely valuable when used correctly and when it makes sense to spend time and resources on it.
In other words, just because you have the chance to focus on SEO doesn't mean you should do so. It really depends on your specific situation.
Some have gotten better results by focusing on other options, guerilla marketing being one of them.
Tip #1: Focus on quality AND quantity
What's new for 2021 is that quality alone simply is not enough anymore.
Recent studies show that pages with higher word count outrank those pages with a lower count. While it's never a good idea to write for the sake of writing, if you can, try to ensure your pages have a word count of 1,500 words or higher.
There will always be exceptions in some niches, but as a rule of thumb, this is a good one to remember.
The benefits of quality content are fairly obvious. Some benefits directly relating to SEO metrics are:
Viewers don't immediately leave your site after reading the page (lower "bounce rate")
More returning visitors (good for SERP rank)
More shares on socials (more visits)
Google starts seeing you more as an authority (good for SERP rank)
Whereas pumping out keyword-optimized but badly written content on a daily basis might have worked for some time in the past, nowadays search engine algorithms tend to favor quality and user-experience over everything else. Which brings us to…
Tip #2: Analyze your site (for free) using SEOptimer, Lighthouse, and Semrush
The SEO SaaS market is saturated with tools and extensions aiming to help you out in your SEO ventures. While many of them can be of great assistance to any SEO enthusiast, they also tend to be on the pricier side. However, you can achieve great things with only the free versions of various platforms.
SEOptimer offers a free automated auditing tool that checks the technical SEO, usability, performance, social, and security aspects of your site, and provides a report with suggestions of improvements. Most of these improvements can be made in seconds and are vital to make if you are serious about ranking your site.
Google's own Pagespeed Insights measures the speed of your site, and much like SEOptimer, delivers a free detailed report on its findings and suggestions for improvements. Using these two tools are a no-brainer, as they give precise reports within seconds. You can start analyzing the site you're on by opening the console and navigating to the tab "Lighthouse".
Semrush is the third tool I've been using lately. This tool gives more insight and ideas on your content, and ensures that your pages are optimized for specific keywords. There are paid features and a free trial of the full version, but the free package should be enough for most.
Tip #3: Optimize your images
If you made the same mistakes I did starting out, you'll notice how unoptimized the images on your site are. In 2018, 52,2 % out of all online viewers did so using a mobile device. Some of these viewers are on strict data plans, and will not appreciate having to load huge images when browsing your site.
Consider optimizing your site, or discarding the images altogether (do they actually serve a purpose? Or were they placed there just to remove the placeholder images?).
You can optimize images in a multitude of ways. The easiest and fastest way is to use an online image compressor, such as compressor.io, but other options exist. Brian Jackson of Kinsta.com did a great in-depth write-up of this.
Tip #4: Planning your content strategy? Check out Answerthepublic and Keywords Everywhere
If you are facing writer's block and your keyword research hasn't delivered any great ideas, a great tool to use is answerthepublic.com. Type in whatever keyword you want to write about and the site will answer with hundreds of potential blog post ideas.
As these answers are sourced from search sites, you'll know that a demand exists for these keywords. In order words, writing blog posts about these things guarantees visitors.
Keywords Everywhere is a great browser extension for finding attainable keywords to rank for. It used to be free and is still extremely good value for the money.
This tool accesses public data straight from Google and tells you the monthly search volume of that specific search. This tells you if the keyword is worth pursuing.
The best way to use these two tools is together. Start by researching some interesting ideas on Answerthepublic, then input those into Google (with Keywords Everything enabled).
Note: No tool can accurately return the exact search queries for a specific keyword. That is information Google likes to keep a secret. As such, the information from Keywords Everywhere should be seen more as a ballpark figure.
Tip #5: Write content specialized for Featured Snippets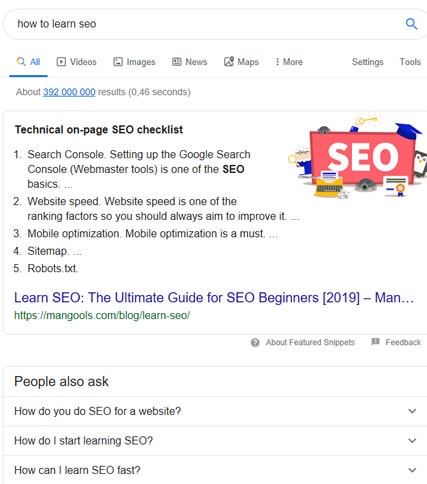 A great way to rank your site higher is to answer simple questions in your blog posts. You can figure out the questions to answer with sites such as answerthepublic. Answering these questions can generate a lot of authority and organic traffic to your site.
The exact formula Google uses to determine which answer is placed in the answers box is unknown. That said, your best bet is to target complex keywords and to answer the question as well as you can. Remember that content is king, and that Google's algorithms are created with that view in mind.
Tip #6: Is your business local? Claim your Google My Business profile now!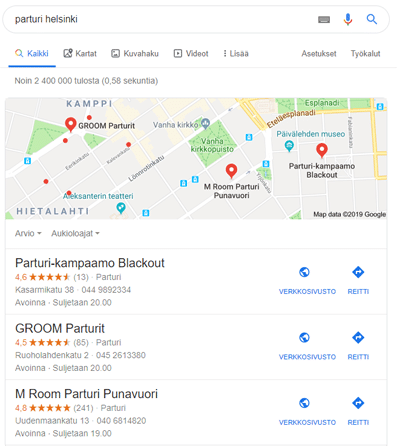 Google My Business puts your company details on the map when people search for you. If your service is even remotely related to B2C services (barbers, cafés, drycleaning…), you need to claim your GMB-profile immediately. It is also completely free.
From an SEO-standpoint, it is vital that your NAP (name, address, phone) is identical to what they are in your social media profiles (Facebook, Instagram, etc.). Having inconsistencies in your NAP information can be detrimental for your SEO, and is an easily avoidable mistake to make. Darren Shaw explains this in more detail in his blog post at Moz.com.
Get started at google.com/business.
Tip #7: Delay your opt-ins!
Surprisingly many businesses and blogs throw away hours upon hours writing great content, only to make a simple mistake that will turn away readers instantly. Let's view this mistake from the reader's perspective.
You've just typed in your search query into Google and clicked on one result that looks promising. Expecting to find the content you were Googling for, you scan it for five seconds (three of which you're waiting for the site to load), and then you get bombarded with some weird pop-up you have no interest in ever reading.
'Oh well, this site is trash.' And off you go to the next one, never to return again.
The mistake the site made was to not delay the opt-in window. Looking at this logically, there is absolutely zero reason any new viewer would have to immediately sign up for your newsletter or mailing list. That is, unless your site is already an authority in your industry.
You will notice an increase in opt-in signups by delaying your opt-in until you've built enough trust and authority in the viewer to actually be interested in what else you might have to deliver.
Another idea would be to simply place the opt-in form at the end of the blog post. 'Hey, you read the whole post, would you like to sign up for more content?' 'Yeah, that sounds great!'.
Quick bonus tips that didn't quite make the list
I'll speed-run through these without going too much into detail. As you can see, I'm quite confident in your skills to Google these. You can do it, I know you can!
Mozbar
Another browser extension, this one tells you the DA (Domain authority) of every search result on Google. High DA = Better. Add this to your keywords research strategy and you'll find golden opportunities more often.
Find it on Moz.com.

Hotjar
This service provides website heatmaps. If you notice that few read past a specific part of your page, try modifying the content. Write -> Analyze -> Rewrite.
Find it on hotjar.com

Stay ethical
Most SEO's who complain about Google updates might start sweating when asked how white-hat the SEO actually was. You'll avoid most problems by playing by the rules, and trusting the fact those who don't are punished in upcoming patches.

SEO is a marathon, not a sprint
This is more of a mindset than some technical tip. If you expect results immediately after hitting publish on a blog post, you might be disappointed. But if you consistently chip away and build your platform to be of more value to visitors, an upwards trend in your Google Analytics dashboard is guaranteed.
Hope you found these 7 tips (+the bonuses) helpful. I know these are the tips I would have loved for someone to give me when I started learning about SEO years ago.
I've tried most of the more well-known SEO tools and keyword research methods, yet I always seem to return to the tools shown in this list. I guess there's a reason.
Disclaimer: I am NOT affiliated with any of these tools, and I don't receive any commission if you do choose to buy one of their premium packages.)