This an excerpt from one of my Email Quick Tip newsletter emails, which I send every Friday, every week of the year. This one is pretty fresh…
Hi there,
Hope your weekend was jolly and you had time to unwind with friends and family.
Alright, notebooks out, pencils drawn, let's get into today's topic.
.
Email marketing should be a rollercoaster. Not a straight rural 60 mph paved road.
Email marketing should be like this: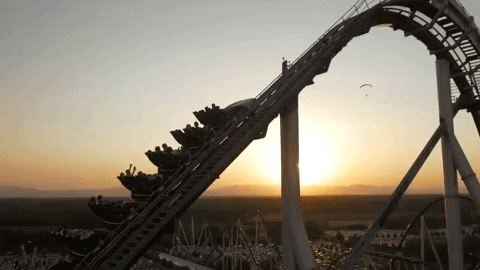 Constantly shifting speeds, elevation, and rotations. Infinite curiosity, fear, dread, anticipation…
Instead, most business opt for this:
Boredom, indifference, frustration…
The same approach, in every email, week in and week out.
No wonder people talk about "Email List Fatigue"…
Just like in any other situation, if you bore people to death, they're gonna lose interest!
And that's the free tip of this week:
Switch your email game up!
It's just not acceptable anymore to ONLY send out a sales promo whenever you actually remember to do so…
Or to only send "high-value content"…
Or to have a linear, simple email flow…
You have to switch it up!
I'm not saying there's anything wrong with sending out a sales promo…
Or letting your subscribers know of an upcoming sale.
But if ALL emails you send are about upcoming sales (and NOTHING else), they'll know what's in the email before even opening!
And THEN, you're allowed to say "the list is dead".
This is something I talked about in the free email course you recently graduated…
(and if you haven't, you can opt-in for it by clicking here.
True, if you're constantly offering valuable information to your list, it's unlikely your list will get "bored" of you.
But only sending out value blasts opens you up to other problems… but that's a topic for another email. In fact, let's make it next email. ????
Anyhoo, that's this week.
If this piece of advice resonated with you, hit reply and let me know.
I love discussing email with fellow copywriters.
Until next time,
Mats "ollercoaster-lover" Liljeström
P.S. Just to keep me on track, I've now promised to talk about how value blasts open you up for new problems in email marketing. Shoot me a message if I forget and send something completely different next week.